The 411 on Healthcare Flooring Installations
Jeffery and Blake Grimsley of Signature Flooring have extensive experience as the flooring contractor for numerous healthcare projects in southern California. Jeffery, a 40-year flooring veteran, started Signature Flooring 16 years ago. His son Blake, vice president of Signature Flooring for 11 years, supervises most of the new construction assignments. They joined host Seth Gladden, marketing director for Taylor and Gary Sheidker, director of technical services for Taylor, along with Robert Varden, executive director of CFI for a highly informative discussion about working in the healthcare environment.
According to Jeffery Grimsley, "The COVID world has made us better because we have to think about the small things and protecting ourselves on the job." Here are a few of the details about installing floor covering in this unique and challenging environment from Jeffrey and Blake Grimsley.
What's it like installing floor covering in hospitals?
All crew members must be symptom free, wear full-face masks and full clean room gowns.
After-hours work has become the norm. That means starting around midnight and being finished and out by 6 or 7am.
Social distancing is enforced, meaning smaller, staggered crews. For instance, instead of packing the elevator cab, they limit the number of personnel at a time.
Tools and materials must be fully covered up going in and out of the work environment.
You must work very quietly … as if you're not even there.
Protecting the demo area is critical and you have to be quiet and careful as you walk through areas that are sensitive. "We're talking about people's lives here".
Dust-free working conditions (because of silica) are a must and odors are always a concern and must be avoided by using low VOC products.
Sealing off the space (walls, ceilings, doorways, etc.) before installation is mandatory. Often this requires more than plastic sheeting or drop cloths. One solution Jeffrey offered was their use of corrugated plastic panels.
"We practice extreme sensitivity for privacy and take precautions. We never touch anything left out. If we see a room with files and paperwork lying about, we don't enter that room to work because we never want to create any problems by mixing up files. The same thing applies to electronic gear or computers. We never unplug them and let the client's technical people do that." - Jeffrey
Basically, conditions are tough, highly scrutinized, uncomfortably hot (because of PPE) and intense to "beat the clock" and get rooms back in service, quickly.
What are some of the secrets to successfully handling hospital floor installations?
"Your crew needs to be very well trained in what they do—this is an environment where there is no room for error."
The crew members need to know what's expected. Some of the projects we have secured are because of the quality and reputation of the crews we have.
Our crews are even trained in CPR, and carry OSHA 30 and OSHA 10 cards.
For estimating, you have to factor all the precautions into your scope of work. Generally speaking, your client understands what you're up against.
Make sure that the infection control is up in the space you're working on and it is approved before you start work.
Using low odor products that install quickly. Two-part epoxies can be problematic in this regard.
Adhesives are a big factor. Pressure sensitive adhesives have really helped our performance and efficiency.
Moisture related issues are what you want to address upfront to avoid shutting a room down twice because you didn't test the floor the first time. We address that upfront, quickly, with the general contractor.
Everyone must remember that safety is the underlying thing with working in a healthcare environment.
What are some of the trends you're seeing for floor covering in hospital and healthcare installations?
As a member of Fuse Alliance, we're exposed to new products and product innovations on a regular basis, so we stay current on all the trends.
PVC-free flooring is a big push in southern California.
The product of choice is LVT. The design community has come up with some great designs to make the experience of being in the hospital a lot more enjoyable. LVT also gives you a more maintenance friendly floor in office areas, too.
Full sheet vinyl and rubber heat-welded flooring are still used in all operating and intensive care rooms.
Modular carpet is used mainly in waiting rooms and offices. We rarely install broadloom in healthcare facilities.
We have had clients mandate that our installers have a flu shot and a TB shot, so it wouldn't be surprising if proof-of-vaccine for COVID-19 will soon be required. COVID-style safety procedures will likely remain a trend for a long time.
As seen in Floor Trends --> https://digitaledition.floortrendsmag.com/july-2021/healthcare-flooring/?oly_enc_id=3870C2107545J7H
---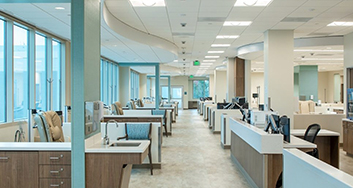 July 6, 2021

Media Contact:
Reva Revis
312.929.5025
rrevis@fusealliance.com
Marketing Contact:
Lyndsay Soprano
949.610.6546
lyndsay@boundbymarketing.com