NTCA announces Five-Star Project of the Year Awards
The National Tile Contractors Association (NTCA) awarded three NTCA Five-Star Project of the Year awards to NTCA Five-Star Contractor members during a live awards ceremony on Thursday, July 8 at the Coverings trade show, held in Orlando, Fla.
The awards were sponsored by Daltile, and were an opportunity to showcase craftsmanship. Projects were judged on scope, complexity, technical soundness and presentation, in the Residential, Commercial and Commercial Elite (projects of $1 million or over) categories.
We'd like to congratulate one of our proud Members for wining this award!! Commercial Elite Grand Prize Winner – David Allen Company
The Grand Bohemian Hotel, Charlotte, N.C.
This 17 story high-rise with 254 guestrooms used more than 85,000 sq. ft. of porcelain, glass, and mosaic tiles in guestrooms, bathrooms and throughout public spaces. The feature design included a cut-to-size pattern of 700 uniquely shaped triangles designed to emulate a "galaxy" flowing through the entry. This triangle pattern presented the challenge of having many small and sharply-pointed pieces that would not be effectively installed individually. Instead, individual tiles were grouped into "pods" that would allow larger sections of the pattern to be installed in the field, As the tiles were cut on the waterjet machine, each piece was labeled to match an overall key plan. Then, each group of tiles in that pod was assembled offsite. Epoxy grout was used to bond the pods together until they were set. Templates were waterjet cut to ensure the perimeter of each pod was perfectly accurate. This complex project was artfully orchestrated to finish with a beautiful and durable project.
Architect: Gensler; General Contractor : JE Dunn.
--> For the full article, on the winners, visit the FCW website!
---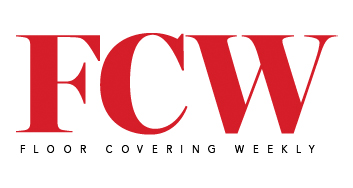 July 14, 2021
Orlando, FL
Media Contact:
Reva Revis
312.929.5025
rrevis@fusealliance.com
Marketing Contact:
Lyndsay Soprano
949.610.6546
lyndsay@boundbymarketing.com