Fuse Alliance Announces Network Member and Supplier 2014 Awards
Fuse Alliance, a member-owned organization of professional, commercial flooring contractors, announced its 2014 annual supplier and member awards. The awards were presented on March 5, 2015 at the Fuse Alliance Annual Conference, Launch Pad 2015, in Las Vegas, Nevada at the Hard Rock Hotel & Casino. Approximately 175 members and suppliers attended the annual awards presentation.
Awards were presented to suppliers in the three main categories: Best Product, Best Service and Best Support. Daltile captured this year's Best Product Award. The product category is awarded to the supplier who has a product collection with the most depth and range of collection, aesthetic and market acceptance, and an overall value of offering. Schönox was presented the Best Support award for outstanding local, regional and national support of members throughout the entire Fuse Alliance network. Finally, Tandus Centiva captured two awards this year - Best Service Award, which is presented to the supplier with outstanding customer service, systems and technology, and communication, and for the first time, captured Supplier of the Year.
For 6 years in a row, Johnsonite has won Supplier of the Year. With stellar customer service to the organization's members, Johnsonite received many kudos in the member surveys and finished a very close second.
In addition to supplier awards, network members were recognized for overall outstanding commitment to the organization. RGO Flooring, based in Canada, received the Outstanding Communication award. Continental Commercial Floors, with locations in Ohio and Pennsylvania, received two awards including Outstanding Reporting and Follow Up and Exceptional Network Loyalty. Commercial Surfaces, Texas, and Pavilion Floors, Massachusetts received awards for Exceptional Network Loyalty. Flooring Systems with locations in Missouri received an award for Outstanding Commitment to Sustainability. Unit Design, based in Louisiana, received an award for Outstanding Reporting and Follow Up and captured the Fuse Alliance Spirit Award.
In January, Fuse Alliance conducted a member survey for the Supplier Awards. The results are tallied and presented at the organization's annual conference.
---
About Fuse Alliance
Fuse Alliance is a member-owned organization of professional, commercial flooring contractors. With more than 70 companies in over 140 locations across the United States and Canada, the organization's member businesses represent approximately $1.2 billion in sales and services. Fuse Alliance is made up of a unique network of flooring experts with a combined experience that spans across flooring product knowledge, installation expertise, and a keen understanding of meeting the environmental requirements of today's market. Fuse Alliance's governing body is an executive Board of Directors made up of 12 member business owners. Through its member network, Fuse Alliance is dedicated to serving the North American market and member businesses can be found throughout the United States and Canada.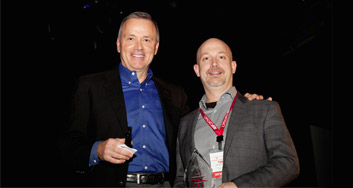 March 17, 2015
Laguna Niguel, CA
Media Contact:
Catherine Minervini
917.579.4058
catherine@greenowlstudio.com
Marketing Contact:
Lyndsay Johnson
949.610.6546
LJ@boundbymarketing.com